Dove of Peace in Dover Harbour
Negotiations are taking place to site the work 'dove of peace' at CT1 Dover harbour board cruise terminal 2 a newly refurbished cruise terminal £35m- I am currently involved in both health and safety and stress tests on the structure with structural engineers and chandlers to establish the position of the work- hopefully we can satisfy all the requirements and the plan is to site the work during October as DHB are planning a special event on armistice day in November, the public opening the site will be spring 2015. – I have been working hard on refurbishing the sculpture as it is made of high quality acid free paper and I have had to do both engineering work on the structure and remaking sections of the surface- this work is now nearly complete and I am discussing logistics with specialist transport.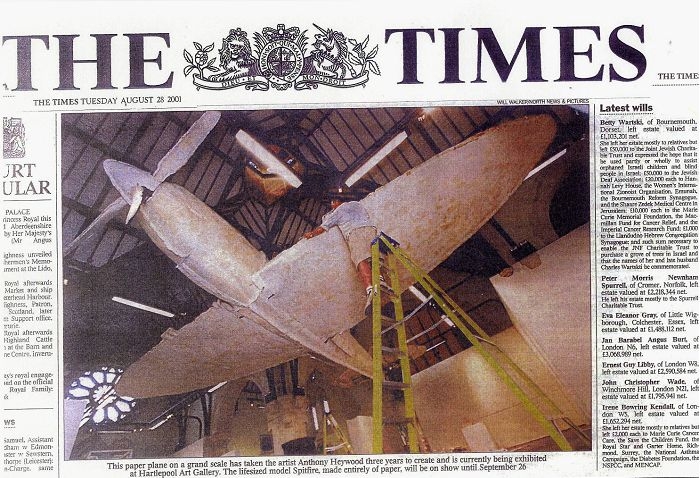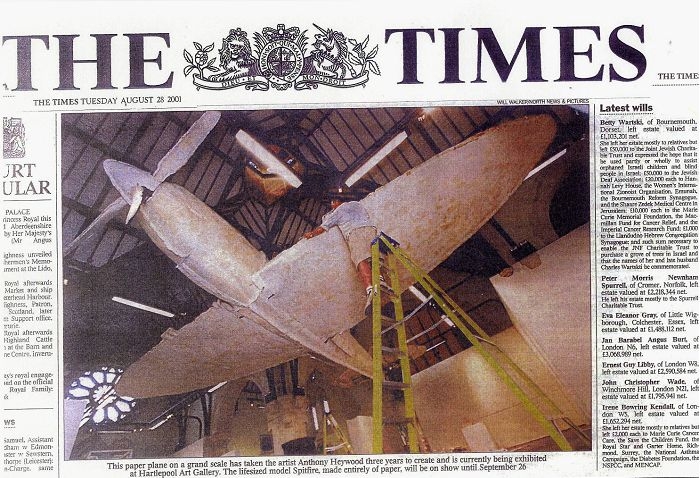 Dove of Peace au port de Douvres
Des négociations sont en cours afin de déménager l'œuvre « dove of peace » du terminal 2 de l'embarquement du port de Douvres CT1 vers un terminal d'embarquement réaménagé à hauteur de 35 millions de £. Je me livre pour le moment à des essais d'hygiène et de sécurité et de tension sur la structure en compagnie d'ingénieurs en structure et de fournisseurs d'équipements maritimes afin de déterminer le positionnement de l'œuvre – en espérant pouvoir satisfaire l'ensemble des exigences, le projet consiste à installer l'œuvre en octobre car DHB prévoit un événement spécial à l'occasion du 1er novembre, jour de l'Armistice, l'ouverture du site au public se déroulera au printemps 2015 - Je me suis beaucoup investi dans la rénovation de la sculpture, étant donné qu'elle est faite de papier non acide de haute qualité et j'ai dû accomplir le travail d'ingénierie sur la structure et la réfection des sections de la surface – ce travail est désormais quasiment terminé et je suis en pourparlers d'ordre logistique avec le spécialiste des transports.